Dog Friendly
Dog Friendly Businesses Love FirstPark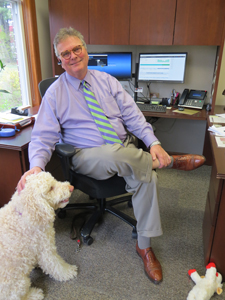 FirstPark was recently featured on NewsCenter Maine for being dog friendly. In addition to allowing employees from businesses in the park to have dogs, FirstPark is planning to build a dog park on the property to provide all employees with a healthy and safe atmosphere for their dogs.
The park is also dog friendly because of the clear sidewalks and local veterinary office right next to the park. Two businesses in FirstPark even have business cards for their dogs!
Businesses are attracted to FirstPark because studies show that pets at work have calming effects, reduce blood pressure, lower stress, and make employees more cordial and productive.
FirstPark featured on local NBC affiliate in Portland: