During pandemic, businesses see benefits of business park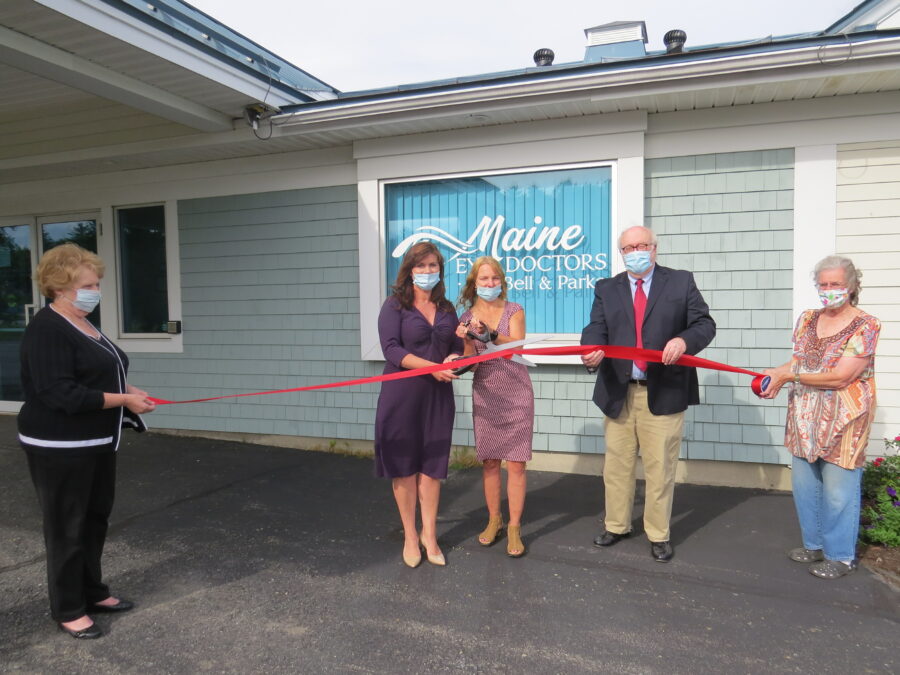 OAKLAND, Maine – During COVID-19, businesses have their eyes open to relocating. Today, FirstPark welcomed their newest tenant, Maine Eye Doctors, to the business park in Oakland. Maine Eye Doctors is the third company to purchase property at the business park in 2020. A team of local optometrists recently purchased the 6,000 sq. ft. location at 25 FirstPark Drive in a transaction brokered by Bruce Holmes of Century 21 Venture Ltd. and commercial real estate broker Don Plourde of Coldwell Banker Plourde Real Estate.
The building was customized for Maine Eye Doctors and includes seven eye care lanes, eye care equipment and technology. Partners for the practice include Lorie Lepley Parks, OD, Helen L. Bell-Necevski, O.D. and Zlatko Necevski.
"During COVID-19, we have seen a lot of interest from businesses of all sizes that are evaluating their options because of the coronavirus. Many are attracted to FirstPark because of our location off Interstate 95 and the fiber Internet, the fastest speed available for video conferencing, telehealth and remote work for employees during the pandemic. How companies do business is changing. Businesses around the world are evaluating their location to see how it impacts their bottom line and quality of life for their employees. FirstPark is an ideal business location in Maine," said Jim Dinkle, executive director of FirstPark.
Earlier this year, J.B. Brown & Sons purchased the current T-Mobile building at 133 FirstPark which attracted interest from investors across the country . J.B. Brown & Sons, a commercial property management and development company in Portland paid $10.7 million for the 78,610-square-foot Class A, single-story office building located on 26 acres. The building is occupied by T-Mobile's customer care center under a lease that expires in Aug. of 2027.
T-Mobile, is the anchor tenant and largest building in the park. Other businesses with property in the park include Bioenergetic Healing, Gateway Financial Partners, Inland Foot & Ankle, L.L.Bean, MaineGeneral, Maine Medical Partners, One River CPAs, Waterville Community Dental Center and SurgiCare.
"The commercial real estate market is steady and many different sized businesses are evaluating their current space to see if it will meet their needs. In my 37 years of experience, it is clear that COVID-19 has changed the way businesses are thinking about their physical locations and what their needs are and how to keep their employees safe. FirstPark has several amenities that make it appealing for all types of industries," said Don Plourde, broker/owner of Coldwell Banker Plourde Real Estate.
The business park has experienced growth in the past two years with a new marketing plan that has attracted new businesses and attention of site selectors around the world, including a visit from Kim Yonghyon, Consul General of the Republic of Korea in Boston.
FirstPark was established by the Kennebec Valley Regional Development Authority, which represents 24 communities that include: Anson, Benton, Canaan, China, Clinton, Cornville, Fairfield, Farmingdale, Gardiner, Hartland, Manchester, Norridgewock, Oakland, Palmyra, Pittsfield, Readfield, Rome, Sidney, Smithfield, Solon, Starks, St. Albans, Waterville and Winslow. The attributes that make the park attractive to entrepreneurs and business owners include pre-permitted sites, shovel-ready lots, protective covenants, innovative technology and infrastructure.
In the coming months, the park is expected to make more investments, including increased marketing, exploration of residential options and creating a dog park, all designed to attract more interest in the 285-acre campus.
To learn more about FirstPark and available opportunities, visit FirstPark.com .