Transportation
There are many transportation options in the mid-Maine region easily accessible from FirstPark, facilitating the movement of people and materials throughout New England and beyond.
Maine Port Authority
The Maine Port Authority in Augusta operates the International Marine Intermodal Terminal which has intermodal capabilities to rail, maritime, and truck services.
Air Freight
DHL, FedEx, UPS, Portland Air Freight, and Telford Group all provide air freight service to our area.
More than 20 million pounds of air cargo is annually shipped through the Portland International Jetport.
Bangor International Airport is capable of handling any commercial cargo carrier presently flying while specializing in helping with the origination or receipt of cargo shipments. BGR operates a diverse array of loading and unloading equipment including main deck loaders, container cargo loaders, transporters for palletized cargo, cargo scales (20,000 lb. capability) and forklifts.
BGR offers:
•  Strategic location
•  24-hour federal inspection services for U. S. Port of Entry
•  All-weather access CAT III, 11,440 ft. (3,486m) runway
•  Low-cost all-inclusive/all-aircraft ground and cargo handling services
•  No restrictions, surcharges, Canadian NAV/user fees, or other hidden costs
•  Immediate access to the eastern seaboard highway network
•  12 million sq. feet of ramp space
•  20,000 sq. feet of heated cargo storage space
•  FAA/EASA maintenance
•  Free Trade Zone
•  Full-service banks and law firms with international expertise and experience
•  Uncongested access—air and land
Waterville Robert LaFleur Airport offers services including flight instruction, charter, aircraft maintenance, oxygen & nitrogen, aircraft detailing, GPU, LAV, deicing and more.
•  FAA Identifier: WVL
•  Control Tower: No
•  Fuel Available: 100 LL Jet – A
•  Runway Dimensions: 5500 x 100 ft / 1676 x 30 m
Commercial Air Service
We have commercial air service via Bangor International Airport, Portland International Jetport and Waterville Robert LaFleur Airport. Portland has service from low cost carriers Southwest and JetBlue, as well as American, Delta, Elite, Southwest, and United. Bangor has up to 20 flights a day via Allegiant, American, Delta, and United.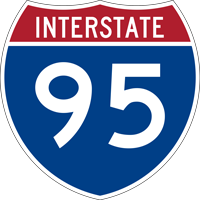 Interstate 95
Interstate 95 borders FirstPark to the east. I-95 serves all the major cities on the east coast such as Boston, Providence, New York, Philadelphia, Washington, and runs all the way to Miami in the Southeast. We are literally Canada's gateway to the United States via I-95 and among the first areas of development accessible off I-95 from Canada coming south.
Pan Am Railways
Pan Am Railways is North America's largest regional railroad system. Via an agreement with the Irving family of railroads the railroad's extends into northern Maine and New Brunswick. The combined railway system totals approximately 1,700 route-miles. PAR's connections include all four eastern Class I systems (CN, CP, CSX, NS), as well as more than 20 regional and short line railroads.