Winter in Central and Western Maine
If you think winter is a time for hibernation, think again. FirstPark's location in central Maine gives it premier access to ideal winter recreation spots around the state. Take a break from your desk for a snowy workout on nearby trails, or plan your weekend getaway to some of Maine's best winter wonderland destinations. Whether you're an experienced skier zipping down mountainsides or someone who revels in the quiet magic of a snowshoe trip, FirstPark's location gives you the opportunity to beat the winter blues and stay active with many delightful winter recreation opportunities.
Cross-Country Ski and Snowshoe on Quarry Road Trails in Waterville
Twelve minutes – about the time it likely takes to grab lunch or a coffee – and at FirstPark, the amount of time it takes to access 6.5 miles of groomed trails of Quarry Road. This exceptionally beautiful trail network was designed by leading Nordic trail designer and two-time Olympian John Morton. With trail opportunities for cross-country skiers, mountain bikers, walkers and snowshoers alike, everyone can find their midday pick-me-up. If you can't make it until after work, that's no problem – more than a mile of the trail system is lit until 9 p.m. for night skiing. Glide and move on the dependable machine-made snow surface, find your rhythm, and discover the inner tranquility that accompanies spending time in the wintery Maine woods. You will also witness high-level competitors and competitions since Nordic teams from Colby and other area academic institutions train and compete here.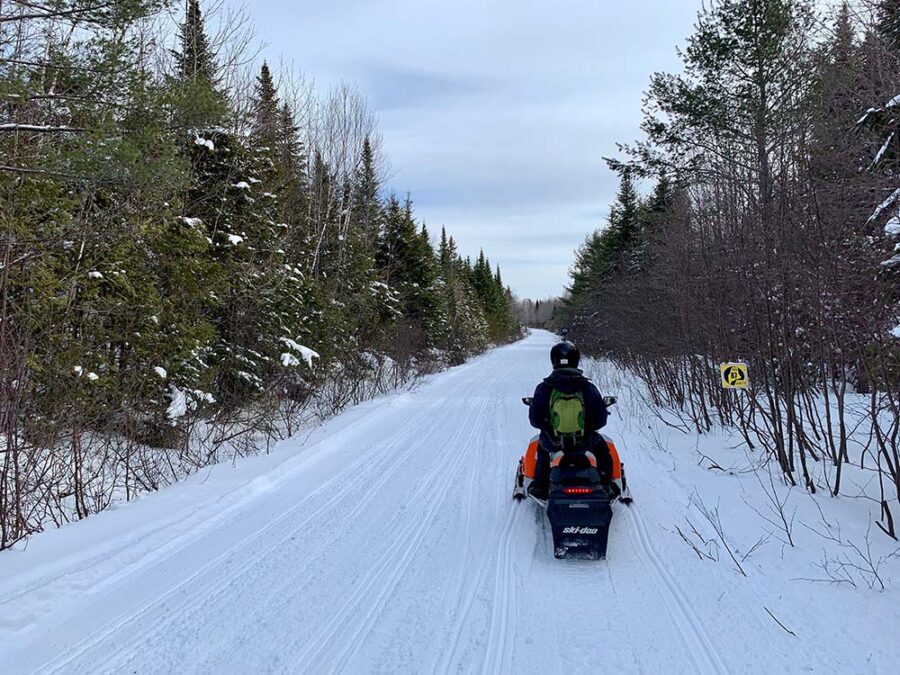 Experience World-Class Snowmobiling in The Forks and Jackman
Just a little more than an hour from your office door is an alternate universe – hundreds of beautifully groomed snowmobile trails awaiting your adventure. Ride through the snow, explore backcountry trails suitable for all skill levels and connect with the close-knit snowmobiling community. Seek out towns like The Forks and Jackman, whose rider-friendly amenities cater to snowmobilers. Pull up to one of their restaurants, pubs or lodges, hop off your ride and enjoy a warm meal and some well-deserved R&R. In The Forks, Northern Outdoors Adventure Resort provides everything you could desire after a day on the trail, including a brewery and restaurant. Jackman's Sky Lodge is the perfect spot to warm up before you're back out there on the conveniently located trail. Both towns are home to snowmobile clubs, where you can meet other riders and get the best tips.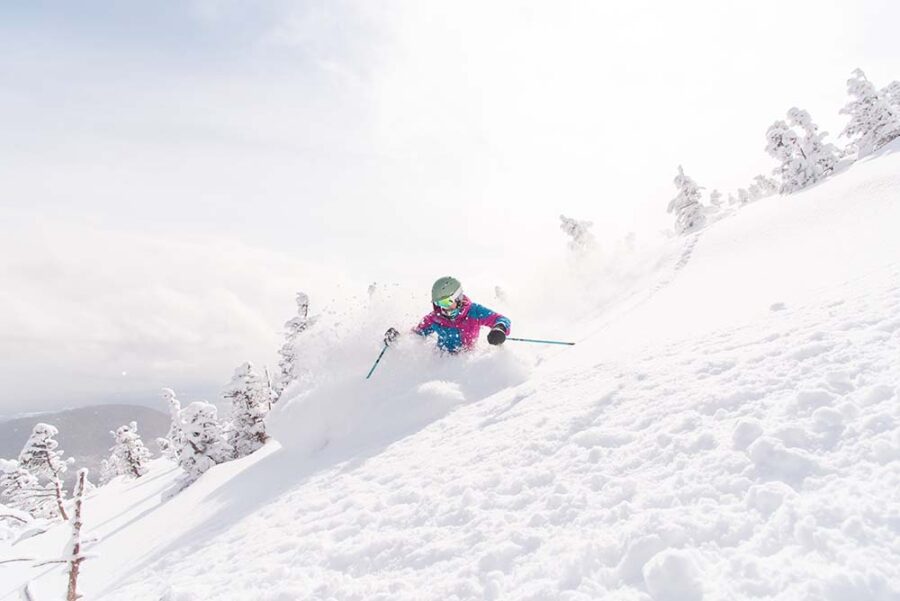 Make Winter Memories at Sugarloaf: Alpine Skiing, Nordic Skiing and More
In the heart of Carrabassett Valley, carved by the Carrabassett River and surrounded by Maine's highest density of 4000 foot mountains is 4,237-foot Sugarloaf. Seasoned ski enthusiasts and beginners alike will appreciate the mix of trail options here, from gently sloping trails for those just beginning, to terrain parks for freeriders, to runs that challenge even an expert. Alpine skiers will appreciate panoramic views of Sunday River to the west, Mount Washington in New Hampshire and even Quebec, Canada. If big hills are not your thing, Sugarloaf's Outdoor Center is the largest Nordic center in Maine, offering a variety of alternate winter activities including ice skating, snowshoeing and fat tire biking. There you'll find plentiful places to rent equipment, take lessons and settle in for a homemade meal or rest.
Plan an Adventurous Winter Getaway at Maine Huts and Trails
If you want to get off the grid without leaving civilization entirely, Maine Huts & Trails is a fantastic option that's barely over an hour away from FirstPark. Don't be fooled by the term "huts" – these large lodging options are equipped with everything you need to enjoy your stay, all while being energy efficient. In your backyard are trails for skiing, snowshoeing, fat tire biking and ice fishing. You'll be well energized throughout your stay, with a hearty, family-style breakfast to start your day off right, a bagged lunch for the trail and another hearty meal at dinner (during full-service days). There are even Maine-made brews! Even if you don't come on a full-service day, you'll have access to the hut's tidy commercial kitchens to cook up your own meals, and to-go options for purchase.